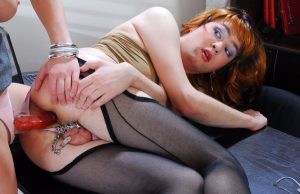 I took my sissy slave to the street fair. I had him dressed as a cheap hooker in tight restrictive bondage. The weekend trip was meant for him to be dressed feminine while there are males outside.
Things got changed at the last minute due to him breaking one of my major rules. Once he was dressed and tied, I told him that his punishment that night was to be tied up and used as a sissy whore. I told him I made 50 cards saying "Sissy slut whore tightly tied, she requires you to use her tonight" with the address and my phone number for them to text me.
By the time we headed home I still had 10 cards left so I chose the ugliest and fatest men I could find and gave them a card. Once again I locked her in a straitjacket, cuffed her legs together and locked him in a cupboard. I then replied to the texts giving the men time to arrive then. Out of 50 cards 8 turned up, 2 of them were guys the slave had chosen to give a card to and the other 6 were my choice. I told them the plan, an I went to grabbed the whore, clipped a leach to her collar and dragged her out.
She was made to kneel and rim all the men, then I re-gagged her. We all went out for a walk, ending up in the park where my slave had to suck each one off. Next she had to offer her sissy ass to them where they pounded her slut ass. Once they all had used my slut, I had a couple of them cum on her face. We then dragged her through the busy night spots of town where my slut says goodbye to the men.
Candy
1-888-430-2010
#FetishPhoneSex #ForcedSissy #PhoneSexMistress