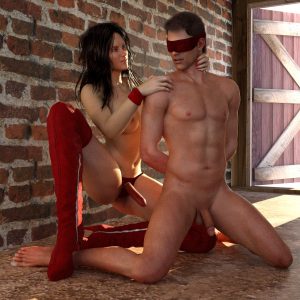 "Mind fucking," is something that can have impact on a receiver and is best practiced between trusting your partner. There's some skills on the part of the domination fetish that the one on the receiving end of a bull within the china shop of their mind. The kind of mind fucking I'll refer to here is consensual, and goes beyond simple tricks that play on a sub's good nature.
Mind fucking is any use of control over the sub where their thought process, reactions, responses, arousal, or sensations are altered or manipulated by their dom. Most Domination relationships will include elements of this, but they may not be distinct enough to call out with this particular term.
Intimate, safety-focused process to a more blunt or forceful one. A high level of presence creates an easy pathway into the mind. Alternatively, force, threat, and fear are another means of impacting the thought process of another person. While there are drawbacks of being harder to modulate, easier to do harm, harder to assess the receiver's mental and emotional state, which may all result in undesirable or harmful side effects. Rushing in most cases, be a violation of the recipient's trust, and not in their best interests. I'm strongly in the camp of preferring to focus on the journey, not the destination.
Common examples of mind fucking focus on assumptions that seem inviolate, like preferences, reactions, responses, thoughts, etc. Creating a response to non-sexual events, like having to contract her cunt each time they are spoken to. This alters what it means to be spoken to, which isn't something we tend to rethink past a very early age. There are more intense forms, such as altering a phone sex submissive preferences. For example, with sufficient control established, a sub could be asked his or her likes and dislikes in condiments. Then they can be told that they enjoy one of the condiments they have disliked. That they now seek it out and actively enjoy it. That they'll be certain to include it given the opportunity. This is certainly more subtle and a harder level to achieve, but it demonstrates an important point, which is that there's pliability available at the dom's discretion, but it must be earned, often painstakingly. But this is the nature of a safe Domination phone sex relationship. I believe it to be foundational.
It's worth wondering why this subject receives so much attention and why there's even a term for it. In my experience, it offers a mind-blowing example of control that exceeds anything that the sub has imagined, except in fully unrealistic and unachievable fantasy. Crossing that threshold and demonstrating the existence of such control is a life-altering event, hopefully a deeply pleasing and arousing one. It also creates an opportunity for the sub to demonstrate their ability to be of use, to be controlled, to be manipulated beyond their own desire or effort into something that is presumably pleasurable for their dom. So it provides a double sense of pleasure for the sub while accomplishing something similar for the dom, who is able to both experience this preternatural level of control AND experience their sub's reaction to the impossible.
Candy
1-888-430-2010
#dominationfetish #dominationphonesex #phonesexsubmissive